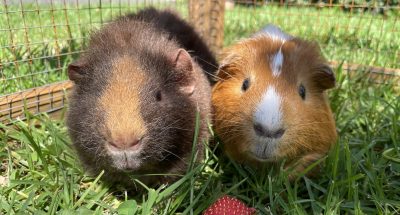 We have around 200 guinea pigs from a research facility who need to find foster and permanent homes in NSW or the ACT in 2023. These beauties are mostly female guinea pigs, aged from four months to two years who can be housed in pairs or larger groups.
We are looking for foster care or permanent homes who can accommodate indoor or outdoor housing, preferably runs with hutches or indoor enclosures of at least 1.2 metres in length. Please read our piggie housing guideline for more details.
We deliver our guinea pigs to your home or they can be collected from the Central Coast. We can also assist with housing, equipment and food.
We're also looking to work with sanctuaries and small animal rescues who can assist us with rehoming some of these guinea pigs, located anywhere on the east coast – we organise and pay for all transport.
If you can provide a temporary or permanent home for a group of guinea pigs, please complete our expression of interest form and we'll get straight back to you.