Quilts can be symbolic of many things: family, connections, stability, tradition, even overcoming hardships. To us, these beautiful creations are a celebration of all the species and characters who make up our diverse Liberty Family. They tell the stories of the creatures we have helped to move on from research into new lives as cherished pets and companions.
We've worked with a skilled craftsperson to produce these items for you, using special fabrics and designs from around the world.
These works of art are literally one of a kind! Where else would you find a quilt of a rats having a rollicking meal of peas or mice pillaging a strawberry patch? We hope you love them as much as we do.
The auction starts online on Monday 24 April, 2023 and ends at 7pm on Sunday April 30, 2023 (AEST).
Find images and descriptions of all the reversible quilts below. They are ideal for snuggling on the lounge with your furry companions or arranging on furniture. They vary slightly in size, check the details of each item before placing your bid.
You can place bids on more than one item. Items won at auction can only be paid for via a secure online credit card transaction, not PayPal.
You can make a donation should you wish to either by PayPal or by credit card on our Annual Fundraising Appeal page.
All proceeds go directly to rehoming animals from research in Australia.
Please find more information at the bottom of this page about the auction and tax deductibility of auction bids.
---
Regal Rabbits Quilt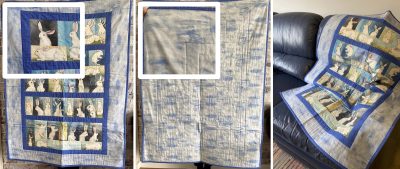 Featuring white rabbits with different expressions, this handmade quilted blanket truly celebrates our magnificent and gentle bunny friends.
Measurements: approx. 122cm x 94cm
---
Mischievous Mice Quilt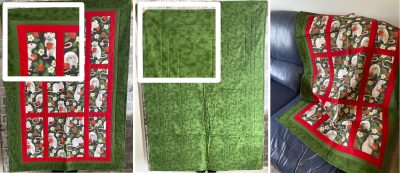 Featuring gorgeous mice raiding a strawberry patch, this handmade quilted blanket will be appreciated by all those who love these tiny but mighty creatures.
Measurements: approx. 123cm x 88cm
---
Diggity Dog Quilt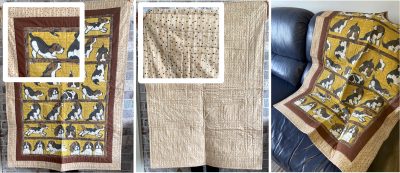 The dogs featured in this handmade quilted blanket aren't just digging but showing all the reasons why we love and appreciate our beloved beagles.
Measurements: approx. 118cm x 88cm
---
Perfect Piggies Quilt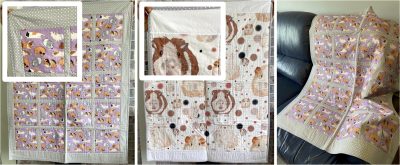 Featuring the wonderful diversity of the guinea pig kingdom this handmade quilted blanket shows an array of happy piggies on both sides.
Measurements: approx. 115cm x 92cm
---
Fancy Felines Quilt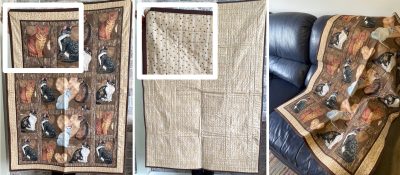 Featuring a fine selection of felines, this handmade quilted blanket captures the real majesty and charm of the cats in our lives.
Measurements: approx. 122cm x 88cm
---
Rapturous Rats Quilt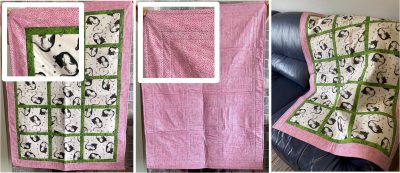 Here's a real treat for all the rat lovers. We all know rats like eating peas and this handmade quilted blanket shows the pure joy of our rodent pals at play.
Measurements: approx. 120cm x 88cm
---
Bounding Beagles Quilt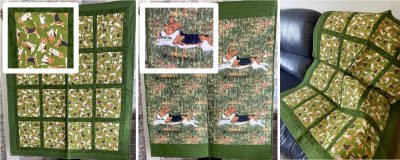 Featuring lovely hounds on one side and beagles bounding freely in the fields on the other, this handmade quilted blanket really captures the essence of what it means to be free!
Measurements: approx. 120cm x 98cm
---
All quilts are made from quality cotton fabric with a wool/polyester lining inside. They can be hand or machine washed on a gentle cycle and dried on the line, they shouldn't be tumble dried.
The online auction is conducted on a secure website, where you will be required to submit an email address or mobile number to receive a verification code. You enter the verification code on the auction page within five minutes of receiving it, to gain access to the auction and place bids. If you place a bid by mistake, please email us at hello@libertyfoundation.org.au and we will cancel the bid immediately on your behalf. We will notify you by email that we have done this. If you hold the winning bid at the time the auction closes you will receive a message from us, requesting online payment for the item/s. All online payments must be made by credit card. Auction bids cannot be paid by PayPal.
While all donations to Liberty Foundation Australia of $2 or more are tax deductible, the rules are different for items paid for at auction. The tax deduction supporters can claim in relation to this auction equals the contribution paid by the supporter less the market value of the item at the time the contribution is made, as long as the market value is not more than $150 and not more than 20% of the contribution paid. The market value of each quilt is A$100 at the time of the auction. This means, if you place a winning bid less than $500 you cannot claim a tax deduction. If you place a winning bid of $500 or more for a quilt, you can claim the amount of your contribution less the market value (A$100). For example, if you place a successful bid of $550, you can claim $450 as a tax deduction.
If you need further information contact us at: hello@libertyfoundation.org.au