If you've ever thought about raising money for us, then you can set up a simple fundraiser in less than five minutes, on Facebook.
You can create a campaign for your birthday and ask people to donate instead of giving presents, or to celebrate an occasion like World Rat Day or any other reason you can think of!
And once you've set up the fundraising page and set the time period (usually a week is a good idea) then you don't have to do anything else. You just like the donations as they roll in!
The best part about fundraising on Facebook is that the funds are managed by the PayPal Giving Fund, which means that there are none of the usual processing fees. So, 100% of what your friends donate is transferred to Liberty Foundation.
We've included the steps below and you can always email us if you need a hand – paula@libertyfoundation.org.au
Step One: Log into your Facebook account
Step Two: Click on "Fundraisers" on the left hand side of your page

Step Three: Click on "Select Nonprofit" and then search for Liberty Foundation Australia Limited and when you see this come up in the list, select it.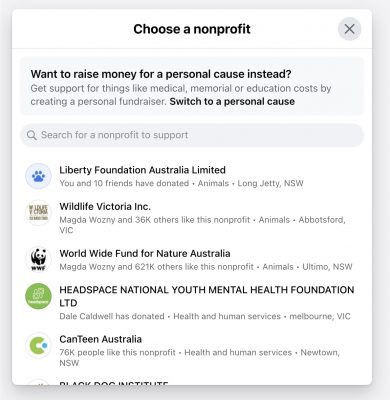 Step Four: Fill in all the details for your campaign on the left hand side of your screen, including how long you want the fundraiser to run, how much money you'd like to raise, and other things you'd like to say.
Step Five: One the left hand side of your screen you will also see a section that asks for a cover photo and you can upload one. We have provided one here that you can use. You can copy this image and then upload it as a cover photo. You don't have to use this, because Facebook will put an image in for you (like the one in the image above) but it would be good to show some of our critters and personalise your campaign.

Step Six: Once you're finished designing your fundraising campaign, just click "Create", and Facebook will do the rest. It's a good idea to share your campaign with all your friends.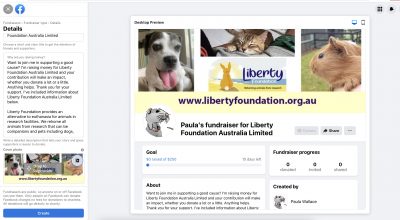 If you need any help just give us a shout. Thank you xx