If Little Molly and Nala had imagined their perfect life, it wouldn't even come close to where they are now. They joined the pack at Team Golden Oldies last year and after a period of adjustment, have embraced a life of comfort, love, tranquility, companionship, relaxation and fun.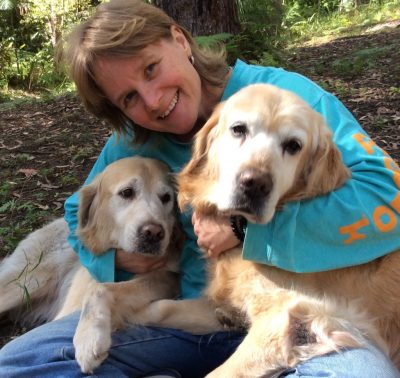 The girls, aged nine and ten when they were rehomed, were adopted by Lisa. She runs the Team Golden Oldies charity, a fantastic organisation that cares for older dogs in their twilight years. Up until Molly and Nala came along, the pack had mostly been Golden Retrievers and Labrador breeds, happily residing together on the mid north coast of New South Wales.
These little girls joined Lisa's pack without a hitch. They absolutely love their new gentle friends, especially most recent resident Winston the greyhound.
Molly and Nala had spent some years in a research facility in Sydney which in fact was a better life than they'd known before, having been rescued from a puppy farm.
The technicians at the research facility cared for these two sweethearts, helping them to trust people and become accustomed to being handled and walking on a lead. They made much progress in their time there and the facility was keen for them to move into the community, continue to learn new skills and enjoy the stability of a permanent home.
We were delighted to find them a home with someone like Lisa, who has experience with institutionalised animals and those requiring special support. We spoke with her many times before the beagles were ready for rehoming, talking about the kind of support they would need when they ventured out in the big, wide world.
You can hear from Lisa and see how the girls are getting on, in our video.
We're pleased to report they have exceeded our expectations! With help from the pack, Molly and Nala have led their own transition from one life to another. At first they had the support of each other and have gradually begun to lean into the strength of the pack. Little by little, they are learning to trust and relax in their new environment. We couldn't be happier with how far they've come.
From the first day we collected them from the research facility we could see these girls were special. We stopped on the way to their new home and took a walk in the park. Eventhough they were wary about what lay ahead, these girls took the opportunity to roll in the luscious green grass – just relishing the moment.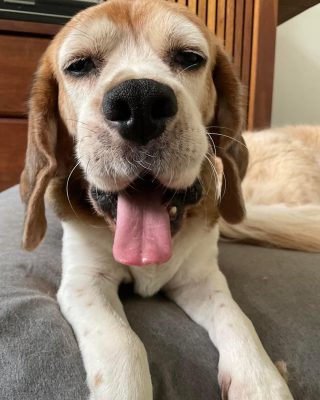 The first few days and weeks weren't always easy, adjusting to a new place and getting to know everyone. The girls also weren't toilet trained and it took them quite a while to get the hang of it.
After a few days they ventured on their own into the house, much earlier than we had imagined, but their curiosity probably got the better of them! Since then, they haven't really looked back.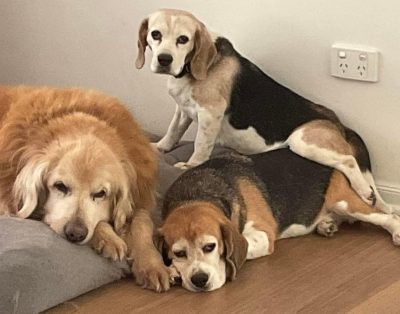 It was also a bit of chasing game to get them on the lead, eventhough they love their daily walks. They now spend their days hanging out with their brothers and sisters, taking pats (sometimes), spending time with Lisa in her workshop and napping, napping, napping!
Their personalities are also emerging, with Nala showing her goofy sense of humour whenever she gets the opportunity. We think these girls know they've found a home for life and there's no better feeling in this world.
We are thrilled to have helped them make this important step in their lives and we're ever so grateful to Lisa and the team for taking these girls into their hearts and home.
We hope to bring you more updates on Molly and Nala in the future.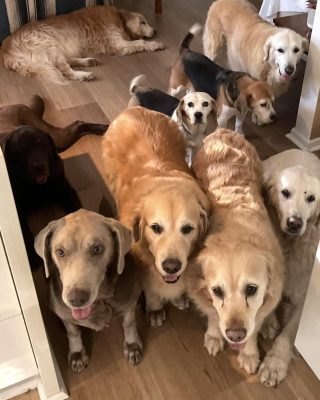 ---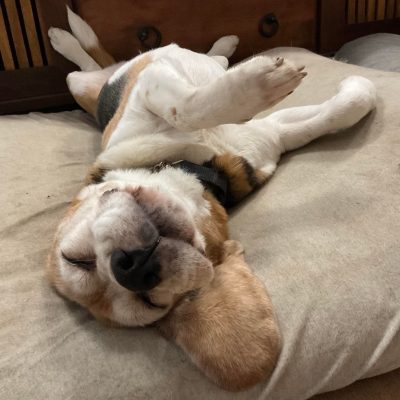 If you'd like to help us rehome more dogs like Molly and Nala, please consider donating to our Annual Fundraising Appeal.
We also have some lovely handmade quilted blankets up for auction this week, two of them featuring beautiful beagles. You can bid on the auction online up until 7pm on Sunday 30 April.