A remarkable event occurred in New Zealand in 2011: 33 beagles were released from a scientific research facility that all went on to be placed in suitable 'forever' homes with people in the community.
Oh, except one. Doris came back due to no fault of her own, after trying out a few homes, and it was then that sanctuary founder Carolyn Press-McKenzie realised this beagle was determined to become the 'poster child' of the rehoming movement. She became a permanent resident at the Helping You Help Animals (HUHA) sanctuary, on the north island of New Zealand.
Doris, who sadly passed away in April this year, did fulfill her wish and was part of the Out of the Labs campaign just before it presented a historic petition to the New Zealand parliament seeking rehoming of research animals to become mandatory by law.
The experiences of the VARC beagles that came from a closed research facility Valley Animal Research Centre in New Zealand, have provided valuable lessons and a benchmark for successful rehoming for others to follow.
This was an unusual situation from the beginning, which provided a rare opportunity to gain access to dogs from such an institution, given that rehoming of research animals in New Zealand, as in Australia, occurs on a small and informal scale.
The release of the animals was the result of the owner's approval and a combination of broad media coverage, the dedication of Ms Press-McKenzie and her team, and anti-vivisection activists that had been protesting for years outside the two Valley Animal Research Centres (Hastings and Himatangi).
"We'd even heard a whisper that… due to the marriage breakup of the VARC directors, both facilities had closed down. But we had no idea that when the doors shut over a year before that no one had negotiated freedom for the remaining beagles," said Ms Press-McKenzie.
She described the situation as a "recipe for disaster" as the owner was advertising the animals for sale as pets.
"When we received a call that the beagles were being inappropriately kept and sold on to underprepared families, we hopped on the HUHA truck and headed for Hastings," said Ms Press-McKenzie.
A television crew had invited HUHA to wait in the wings as they approached one of the VARC directors.
"There were concerns that by approaching, she could ignite a 'clean-up' at the closed facility. So HUHA stood by, ready to negotiate a safe outcome for the 30-40 dogs still in the facility," she said.
"We negotiated for hours, and in fact, after she staunchly refused to release the dogs on that first meeting, we continued to communicate and drove to Hastings twice more before finally we were allowed to come away with seven dogs."
Meanwhile, the media coverage continued to place pressure on the facility, and over time HUHA was successful in obtaining the remaining animals at VARC.
"Backed into a corner, wide-eyed and visibly shaking, the word 'institutionalised' is a fair description of a beagle freshly released from the Valley Animal Research Centre," said Ms Press-McKenzie.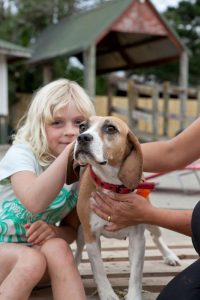 However, what the team at HUHA have found is that these dogs are capable of adapting to life in the community and also benefit from a transitional period in a shelter environment.
"What we've learned along the way is that shelters can be a challenging place for many animals, but for them it was a lifeline. They got to learn step-by-step and day-by-day… it kept them safe and they could learn at their own speed," said Ms Press-McKenzie, adding that she's certain if they'd gone directly into homes it would have set them up for failure.
"Every day we added something to their day, like food, kindness, warmth, comforts… and they had each other.
"And then, as they started to blossom, they started wagging their tails and seeking the company of people… realising that wearing a collar and going outside with a person can be fun," she said.
Ms Press-McKenzie said that being in a facility like that provided by HUHA was essential for the dogs to learn basic skills and then foster homes, especially with other animals, helped them "get the rest of the way".
It's a sentiment reinforced by the experience of Beagle Freedom Australia, which adopted two beagles from a research facility in 2014.
"They are sensitive, gentle souls that when given love, guidance and lots of patience are capable of adapting to life as wonderful and often surprisingly animated family members," said Ms Press-McKenzie.
"But we've found that the key to this remarkable transition is empowering the new owners with the knowledge of where their new family member has come from and what they have been through.
"We are so happy that New Zealanders have stepped up and opened their homes and hearts. We intend to stay a part of the beagles' lives – we will never be far if they or their families need us," she said.
According to the television program that covered the VARC story, Campbell Live, around half a million animals were tested on in New Zealand in 2010, mostly mice and fish. Eight hundred and fourteen dogs were used for testing, seven per cent of which died as a result.