What a busy year we have had, I think it's fair to say our busiest yet. You can find out what we have been doing on behalf of research animals in 2021-22, in our latest Annual Update.
From July 2021-June 2022 we rehomed 116 animals from research establishments, our biggest annual total to date. By the end of the financial year we had rehomed more than 470 animals since we commenced operations in
late 2017.
Compared to other animal rehoming groups that may seem like a modest figure. But it's important to remember that these are animals that, in the past, would have been unlikely to get the opportunity to leave a research facility and embark on a new life in the community. The sad reality is that many of them would have been kept at facilities or euthanised.
These are animals like guinea pigs Peanut and Nugget, rat brothers Bo and Arrow, Beagle best friends Trudi and Princess, rabbits Jill and Bosley and many others. We couldn't imagine a world without them. They've each left little footprints in the hearts of us all, not least their new owners.
All our efforts, funds and resources continue to be directed solely to our primary objective, to facilitate the release of animals from research establishments and provide them with suitable,
safe and loving homes.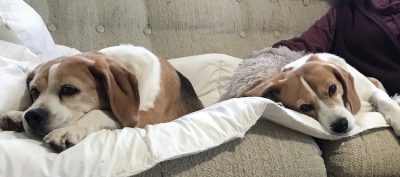 While we may not have experienced some of the highs of 2020-21, with our official launch and recognition as a unique new charity on the scene, we have been able to steadily increase our supporter base and form relationships with new partners who can help us to achieve the best possible outcomes for our animals.
We have consolidated relationships with the research establishments with which we have rehoming agreements and have done considerable outreach work to the research community.
We were lucky enough to be invited to present at this year's ANZCCART conference, an industry council that considers and advises on issues associated with the use of animals in research and teaching. We also assisted in organising, and presented at, the first rehoming webinar hosted by the NSW Animal Research Review Panel.
Our annual fundraising appeal, held in April 2022 during World Laboratory Animal Week, was a great success.
We presented a whole week of videos and stories, which introduced our work to a new audience and we are sure touched many people.
This year, we have really perfected our approach to rehoming mice and rats. We have developed what we believe is the ultimate naturalistic enclosure for mice and now offer these as part of our adoption process. This means our mice can be rehomed in optimal group sizes and enjoy a life of space, stimulation, adventure, companionship, comfort and joy. Who knows, we might even be the first charity to offer these types of options for adopters!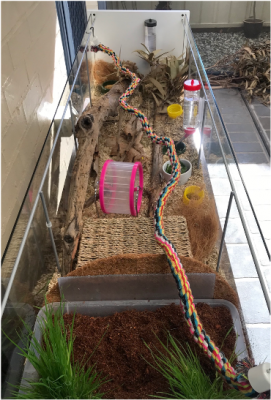 We also issued our guidelines on creating the ultimate rat pad, which set out the standards of housing we seek for our rodent friends, with fun additions such as digging boxes.
We're looking forward to the year ahead and to contributing what we can to this growing movement, knowing that the ripple effects reach far and wide.
We are also working on a business case for a new Liberty rehoming centre, so stay tuned for more details on that in the future.
For now, I'd like to thank those people in industry who support our work, our foster carers, adopters, donors and members.
We couldn't do this work without you, so on behalf of myself, my fellow directors and the animals, thank you one and all!
Paula Wallace
Director and founder
You can access our 2021-22 Annual Update here.