We'd like to share with you the story of two very special dogs, who we had the pleasure of rehoming together after their time in research. At eight years of age, these girls have taken to the comforts of home life as they begin their next chapter as cherished pets.
You can watch our video here that documents the journey of beagles Princess and Trudi.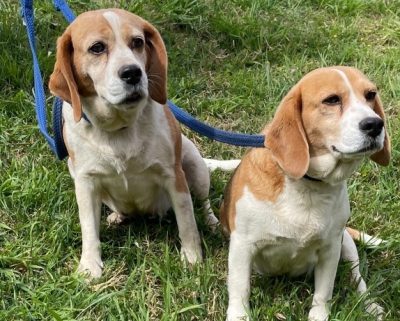 The girls were housed together at a research facility and there they formed an unbreakable bond. When it came time for them to move on, the facility contacted us to talk about finding them a forever home.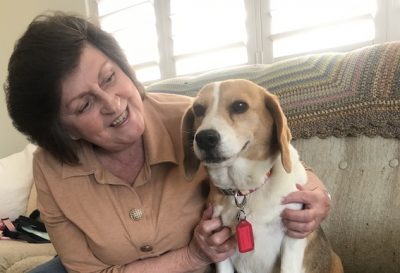 Princess came out first, in October 2021, and went to live with adopter Wendy. She settled into home life remarkably quickly and began to enjoy a new routine of walking, relaxing, sleeping, eating, and of course spending a lot of time with her new owner.
Everything was going really well, only one thing was missing: her best friend Trudi.
Then, eight months later it was Trudi's time to leave the research facility. We picked her up and took her straight to Wendy's house. The girls recognised each other and it was like no time had passed at all.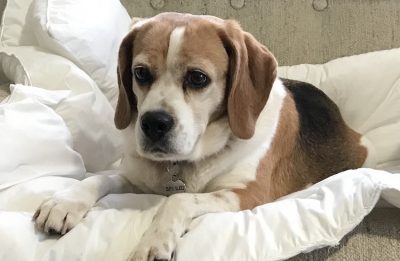 While Trudi was a bit nervous, she had the support of Princess who had already been through those tentative first months in her new home and was eager to show her the ropes. It really does make a difference for dogs to have a friend when they come out of research into a very different kind of life in the community.
We are happy that these two girls can enjoy their retirement together, best friends forever!
Thanks to Wendy, these two adorable beagles can continue to thrive in a safe and loving home, where they are supported to try new things and to experience what it means to be someone's treasured pet and companion.
We hope you have fun girls! We will continue to stay in touch with Wendy and follow your progress closely. We have a feeling though you're going to be more than okay!
With your support we can help more animals like Princess and Trudi to stay together and have the support of a friend as they step into the outside world.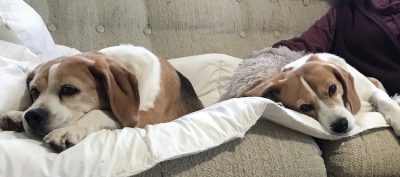 Please consider making a donation to Liberty Foundation this financial year. The funds you donate go directly towards rehoming more animals from research, including dogs, cats, rabbits, guinea pigs, rats, mice and more. All donations of $2 and over are tax deductible.
Thank you for your support xx