We've had the absolute pleasure of rehoming two of the sweetest dogs from a research facility, labrador brothers Memphis and Vegas.
These two now live with Julie and Damon's family in Sydney, and their two other labradors Monte and Chica.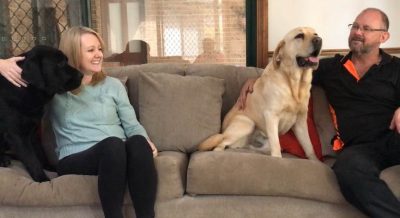 If you thought it was fun having one labrador, imagine having four! These guys couldn't have landed in a better place.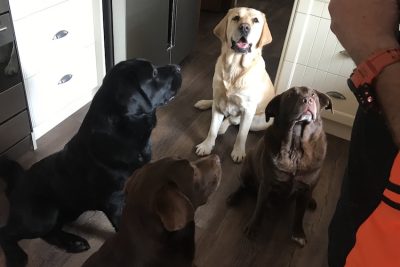 Julie and Damon live on a large block with plenty of trees, grass and open space to run around, wrestle and play. And the labradors take full advantage of all areas! During the rains this year, they had a lot of fun swimming in the lakes that had formed in the backyard and tracking mud through the house.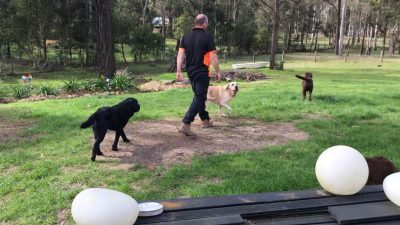 You can see in the video, they have been trained to get their feet wiped before they come barrelling back into the house!
The first dog to be rehomed was the golden labrador Memphis. He's a big, energetic goofy character who adores people and animals alike. He settled in very quickly to his new home, having only been in a research facility for a short time.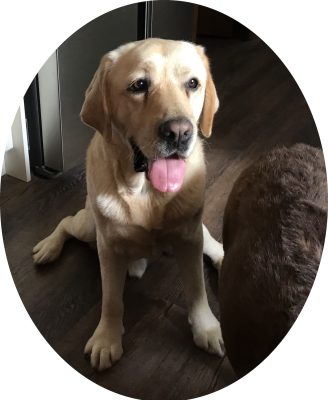 Although he hadn't lived in a home before, Memphis was able to pick up his basic training, including outside toileting, quickly and enjoy his new creature comforts. His favourite activity (apart from playing with the other dogs) is watching television and cuddling up to his humans.
About a year later, we were fortunate to receive his brother, Vegas, for rehoming and we immediately approached Julie and Damon to see if they would be interested in adopting him. After a very quick moment to think about it, they agreed they really would like to welcome this boy into their family.
Vegas spent a little time in foster care before being rehomed, where he got to hang out with Georgie and her dog Kalina. We're not sure whether it was Kalina or Vegas who was the bad influence, but let's just say there was quite a bit of naughtiness and fun that went on!
While they both nearly sent Georgie mad, with the constant wrestling and destruction of furniture, she wouldn't have had it any other way! Thanks to her, Vegas got to have his first experience of living in a home, a positive one that helped him move onto to the next stage.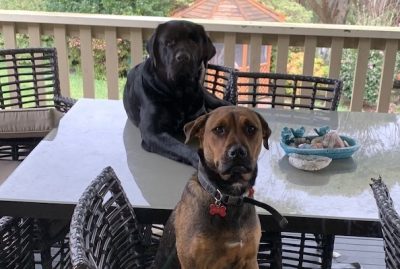 Vegas would probably be the most chilled out dog we've ever met! He's just a soft, squidgy, lovely boy who just wants to cuddle constantly.
He settled in to Julie and Damon's home without any issues and simply cannot go out for his toilet stop in the morning without first having a good smooch and snuggle. He's a big sook, but you can't not love this big bear!
We couldn't be happier for the boys in their new home and we hope you enjoy seeing the wagging tails in our video.
We rely on people in the community to provide the right kind of homes for our animals from research, including dogs, cats, rabbits, guinea pigs, rats and mice. We take on all domestic species who are well enough to move on from research and find a home in the community where they can learn to live in a home environment and have a permanent family to call their own.
You can get involved in with our work as an adopter, fosterer or volunteer, just visit our Get Involved page to learn more.
Thank you to Georgie, Julie and Damon for helping us to provide a beautiful life for Memphis and Vegas and show that there is a life after research for animals, and it's a good life!
If you'd like to support the work we do, please consider making a donation.