Today – 25 September 2021 – is World Rabbit Day! So we thought what better opportunity to share with you the progress of some of our special bunnies who have been rehomed from research in Australia.
You can view our latest video featuring the rabbits we have rehomed over the past year including Julius, April, May, Jill and Bosley – on Facebook or YouTube.
As you can see they are adjusting really well to their new lives in the community, learning new things, meeting new friends and above all forming lifelong bonds with their owners.
Rabbits make wonderful pets, they are intelligent, sensitive and loving creatures who like to be among their own kind as well as interacting with their human friends and becoming part of the household. Find out more about rabbits as pets here.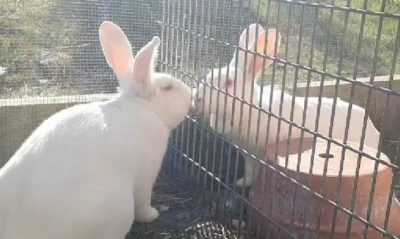 Recently, we were fortunate enough to receive four rabbits from a research facility who were being retired from their breeding colony. These rabbits were in excellent health and young enough to be able to enjoy a long life ahead of them living free in the community.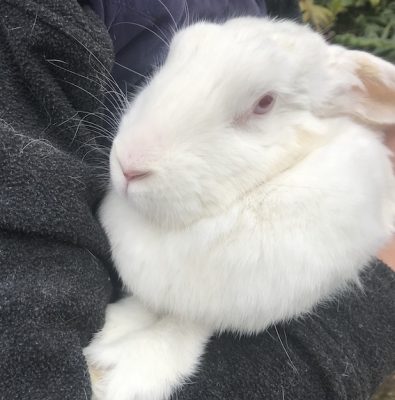 The rabbits – April, May, Jill and Bosley – were placed in loving foster homes while there veterinary work was completed (desexing) . We were very excited that these foster carer wanted to permanently adopt the bunnies and have provided them with wonderful spaces where they can free-range, graze, play, relax and just be themselves.
Jill and Bosley will stay together. April has been paired with the lovely Benjamin and a sweet romance is developing. May will soon be matched with a new friend and is doing really well.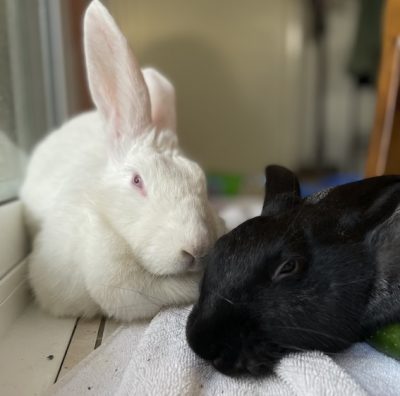 Last year, we received Julius from a research facility that wanted to provide the best life possible for him after research.
While he was a little tentative at first, Julius was bonded with a little rabbit from a nearby sanctuary, Starlight. You can view our video on Julius and Starlight here.
With Starlight by his side, Julius was able to gain more confidence and will spend the rest of his life with his friend in a loving home in regional New South Wales.
If you'd like to register as a volunteer foster carer or adopter for any animals coming out of research you can complete our expression of interest form here.
Thank you!