For Day Two of our launch week we are pleased to release a beautiful video that tells the story of one of our recently rehomed dogs, Ellie
Ellie is a seven-year-old French Bulldog X Beagle who is settling into her new home in Sydney after being rehomed from a research facility.
Thanks to our friends at DOGUE Dog Boutique and Spa, Ellie was offered a free day of pampering at the company's Avalon store.
We went along with Ellie to document her big day out and you can watch the video here.
Ellie had a great day, experiencing a shop environment and dog grooming salon for the first time. She was a little tentative about the bath at first but soon got the hang of it.
She also received a nail clip and special gift bag before she was sent on her way feeling great and smelling fresh.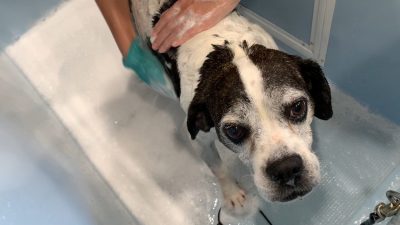 Simone Kingston, the founder of DOGUE, came down as well to meet Ellie and spoil her with attention and treats.
Her new owner Hugh and foster carers Georgie and Grace were also on hand to offer their support.
Thank you DOGUE for giving Ellie a lovely spa experience and helping her to transition into her new life as a cherished pet and companion!