For Day Three of our launch week we are pleased to announce our very first Carer of the Year as 14-year-old Grace Campbell from Sydney!
Grace has been a carer of animals from Liberty Foundation since 2018. Her mum, Georgie, adopted three albino girl rats from us who all lived long and very contented lives with the Campbell family.
You can hear Grace and her mum being interviewed on ABC Radio Central Coast on Wednesday 21 April, here.
Since then, the family adopted a male rat Banjo and provided foster care for guinea pigs, mice and our dog Ellie.
You might remember a spaghetti eating rat from one of our videos, that was Scarlett, or the amazing flying rat, that was Banjo? They all belonged to Grace, who befriended and nurtured these little creatures and has been a loyal, loving and responsible carer over several years.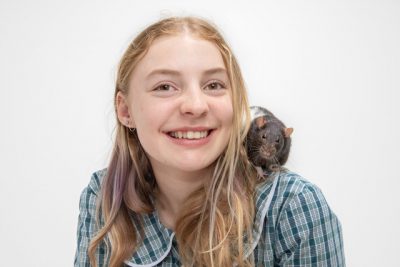 We presented our first ever Carer of Year title to Grace for her years of dedication and invaluable skill as a carer. You can watch a video here of when Grace received her award and find out more about this amazing young woman.
Many people think when they see rats in our videos, that all rats are like these guys. But actually it takes a special touch and a lot of time and effort to establish a bond like Grace had with her rats.
She has many other animals she shares her life with, such as her beloved horses Gus and Ellie and pygmy dragon Sophie.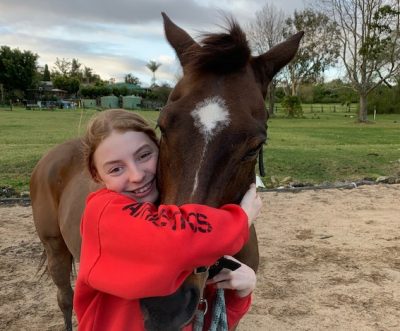 Grace has been a fierce advocate for animals from a young age under the guidance of her parents Georgie and Grant who run a vegan food business – Addiction Food – in Sydney. Started 20 years ago, this business was one of the first to offer high quality vegan treats including the best brownies you've ever tasted.
Her mum Georgie is a dedicated wildlife carer and skilful (and fearless) snake/reptile rescuer with Sydney Wildlife.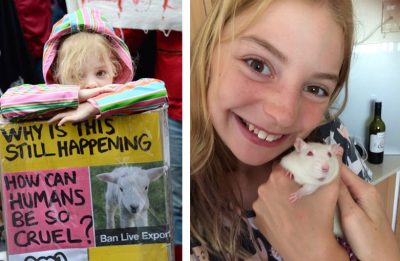 We'd like to congratulate Grace on this achievement and encourage her to continue her important work caring for animals including our beauties that have come from research establishments.
Grace we couldn't do this work without you and your family. So THANK YOU for everything you do now and in the future.