We first met Julius the NZ White rabbit when he was released from a research establishment a few months ago.
After a long trip from the research establishment to his new foster home he was quite frightened. He had left all that he had known behind and was unsure about his new surroundings.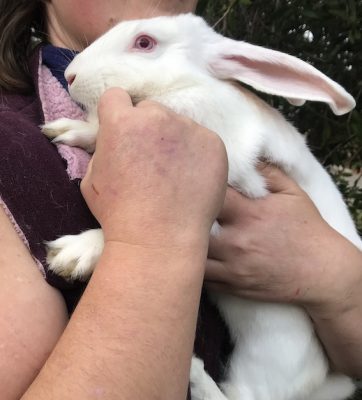 We tried to reassure him and make him feel as safe and secure as possible. Thankfully, Ann from from Pocket Pet Sanctuary was on hand to help. She suggested that a little stray rabbit who had recently come into the sanctuary might make a suitable companion for Julius.
We arranged for Julius and Starlight to meet and they hit it off immediately. It was love at first sight for this unlikely couple – Julius being a large boy and Starlight just a small lop-eared dwarf bunny.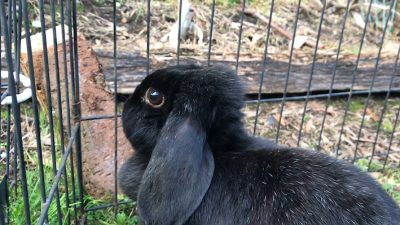 But size can be deceptive. Julius came to rely on little Starlight for direction and understanding of rabbit ways. Her gentle and calm nature has helped him to settle down and to enjoy everyday activities.
After Julius had been in for his neuter surgery and was all recovered the pair were ready to find their forever home.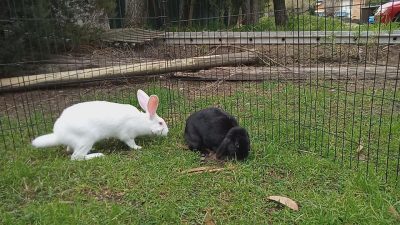 Within a short space of time Natalie and Jacqui agreed to adopt Julius and Starlight to live with them at their home in rural NSW. They would be free-ranging rabbits indoors with supervised time outside.
Since the pair were adopted we've received updates and pictures from Natalie and Jacqui who say that Julius is becoming more confident everyday and Starlight loves doing zoomies around the backyard.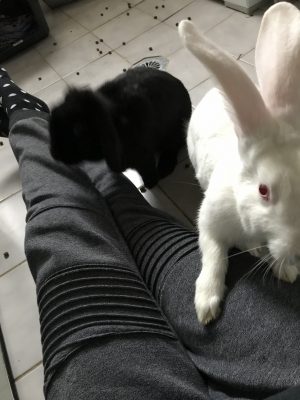 We wish them both long and outrageously happy lives together!